INTRODUCTION AND PURPOSE OF ENGAGEMENT
Lone Star Legal Aid is seeking a Project Manager. The primary purpose of this engagement is to provide technical expertise in IT project management to an information technology (IT) project funded by a grant awarded to Lone Star Legal Aid from the Legal Services Corporation (LSC) pursuant to the 2017 Disaster Supplemental Appropriations, which provided special federal funding for survivors of Hurricanes Harvey, Irma, and Maria and the 2017 California wildfires. The project requires coordination between a lead partner and two additional partners (collectively referred to as the "Texas Partners"), and multiple vendors and contractors through end-to-end project management including the planning, development, execution, implementation and evaluation stages. The selected project manager will work with LSLA, as lead partner in this project, to ensure that all grant deliverables are met.
The timeline is ambitious and cannot be extended. Key details of the project include: Hiring timeframe: no later than March 15, 2019 Performance begins: March 2019 First report due to LSC: March 31, 2019 Creation of project calendars, coordination of project performance, and report submissions: March 2019 through September 2020 Project Completion: September 30, 2020 Final Grant Program Evaluation and Report: October 20, 2020 Proposals are due by email by 5:00 p.m., Central Time, on Wednesday, March 5, 2019.
ABOUT LSLA, LANWT, TRLA & THE TEXAS PARTNERSHIP
Lone Star Legal Aid's (LSLA) mission is to protect and advance the civil legal rights of the millions of Texans living in poverty by providing free advocacy, legal representation, and community education that ensures equal access to justice. Texas Rio Grande Legal Aid (TRLA) and Legal Aid of NorthWest Texas (LANWT), our project partners, have similar missions and together we operate a total of 47 offices, covering 268,597 square miles across 254 Texas counties. We are the State's only full-service legal aid providers, each engaging in vigorous advocacy through community education, legal advice, brief services, negotiations, administrative representation, litigation and pro bono representation. Practice areas encompass the full range of civil legal aid, including eviction and foreclosure defense, spousal and child abuse, sexual assault, health care, disability claims, employment law, income maintenance, public benefits, consumer law, bankruptcy, elder law, federal tax matters, estate planning and probate, education, civil rights, individual rights, environmental justice and disaster relief. Our free legal services are critical to ensuring that our clients' voices are heard, their rights are protected, and their basic human needs are met. After Hurricane Katrina decimated the Gulf Coast in 2005, all three Texas programs became involved in disaster response work, providing direct civil legal aid to disaster survivors. That work has been honed over fourteen years, through multiple hurricanes, floods, fires, explosions, the BP disaster and numerous tropical storms and other localized disasters. Our partnership was created out of our shared desire to improve the outcomes for Hurricane Harvey survivors, and leverages our prior experiences. Each partner has a team of IT professionals, legal aid staff, and pro bono professionals who specialize in disaster-related legal services, and it is our intent to leverage those resources as well. Together, our partnership can achieve what none of us could achieve singlehandedly given the breadth of disasters the state of Texas has endured.
PROJECT CONTRIBUTION & DESCRIPTION:
Overall, the project manager contributes to a multi-faceted IT project whose goal is to increase the number of Hurricane Harvey clients receiving high quality legal assistance through creation of a guided data exchange platform. The platform will have the capability to determine individualized resource needs and then provide those resources to disaster survivors.1 In addition, the project will provide a pro bono platform where volunteers can accept cases and receive training on disaster-related legal aid issues. Finally, the project will enhance the delivery of disaster resources to disaster survivors on a national scale through enhanced content, pro bono tools and FEMA appeals on the DisasaterLegalAid.org website or a similar platform.
PROJECT MANAGER RESPONSIBIILTY STATEMENT:
The successful candidate will work with the Texas Partners to ensure a seamless roll-out of the components of the project within the timeline set forth by LSC. The candidate should be familiar with the requirements of the 2017 Disaster Supplemental Appropriation, LSC's customary grant rules and regulations, LSC's Disaster Relief Grant Program and corresponding Grant Terms and Conditions. The Project Manager will be responsible for the following: • Developing and maintaining consistent communication with project stakeholders and personnel; • Developing, analyzing, and managing all touch points of the project plan including responsibility for scheduling, resource forecasting, managing project financials, and providing input and justification for costs and budget impact; • Monitoring and controlling the overall project performance (timeline, budget, resource utilization and achievement of milestones), against project plan and looks to the Project Team (the Texas Partners and multiple vendors with which LSLA contracts for goods and services), to implement adjustments when issues are identified and require resolution;
• Directing and coordinating the development of requests for information (RFI) and vendor requests for proposal (RFP) processes, working with Texas Partners' project personnel to provide input; • Driving the work by recommending or requesting resources to support project demands;
• Communicating a clear vision of project goals and objectives, and provides technical expertise and input for deliverables worked on by the Project Team;
• Holding Project Team members accountable for meeting or exceeding expectations by coordinating task-oriented activities, managing milestones and deliverables, providing performance feedback to supervisors of Project Team personnel and providing guidance to Texas Partner senior management on tasks managed and performed by Project Team personnel;
• Controlling and mitigating project risks by performing the qualitative and quantitative analysis of risks and trigger events, planning risk response, establishing contingency plans, anticipating dependencies affected by ongoing project changes, and recommending ways to mitigate future risks to the project;
• Managing the alignment, buy-in, and support of diverse project stakeholders by building and maintaining relationships with external consumers, internal customers and Project Team members; • Tracking and reporting on key metrics (i.e. deliverables, financials, duration, benefits), and communicating findings to Texas Partners' senior management and designated staff;
• Applying technical knowledge in software development, database management, IT architecture, telephone systems, API architecture, website development, AI (visual perception, speech recognition, decision-making, and translation between languages), automated case management systems, etc., to ensure the alignment, buy-in, and support of diverse project stakeholders including external consumers, internal customers, and Project Team members; and
• Collaborating with and accountable to Texas Partner senior management and designated staff for the management, delivery and outcomes of assigned tasks, objectives and goals.
The successful candidate will also be expected to work with the Texas Partners to perform the following tasks:
Objective 1
1. Facilitate the review of existing online intake systems based on input from Texas Partners;
2. Determine the scope of online intake, referral, and content development needs based on input from Texas Partners;
3. Complete an online intake development strategy for Hurricane Harvey survivors based on input from Texas Partners;
4. Complete overview of intake logic3 model for Hurricane Harvey survivors based on input from and acceptable to Texas Partners;
5. Evaluate phone systems for IVR compatibility with input from Texas Partners;
6. Draft scoping document detailing technical and intake-related needs for phone system and IVR software for each Texas Partner;  
7. Prepare RFI or RFP documents where appropriate for the project and provide evaluation tools for any received responses (phone systems, IVR software and system, translation services, etc.);
8. Finalize online intake logic model/field mapping with input from Texas Partners;
9. Create mapping and scripting for online intake and IVR with input from Texas Partners;
10. Develop disaster recovery/failover plan for phone system with input from Texas Partners;
11. Assist LSLA in providing oversight of LANWT and TRLA performance as set out in contracts with LSLA;
12. Complete development of online intake incorporating translation with Texas Partners;
13. Coordinate user testing for online intake;
14. Test intake and IVR mapping and scripting;
15. Test phone system functionality as related to everyday workflow of staff;
16. Assist Project Team in determining conflict check protocol
17. Train intake staff at LANWT, LSLA and TRLA;
18. Develop training and documentation for users on phone systems with LANWT, LSLA and TRLA, as required; and
19. Assist Texas Partners in tracking usage of online intake and IVR solution and in soliciting feedback from users.
Objective 2
1. Facilitate the selection of Hurricane Harvey disaster related legal problems to be addressed by guided data exchange interviews;
2. Facilitate drafting of workflows, questions, and logic models for selected guided data exchange interviews;
3. Facilitate development of content development plan for guided data exchange interview tools;
4. Facilitate development of style guides/best practices for the development of guided data exchange interviews;
5. Coordinate development of legal information content for Knowledge Resource Library and guided data exchange interviews content;
6. Coordinate development of guided data exchange interviews for at least 3 legal problems;
7. Manage and facilitate the development, testing, and refinement of the guided data exchange interviews from selected subject matter experts and based on feedback from testing;
8. Coordinate the soft-launch of guided data exchange interviews;
9. Develop trainings and documentation for staff who will be administering guided data exchange interviews;
10. Determine strategy for modifying existing guided data exchange interviews and adding new ones;
11. Coordinate the launch of guided interview tools in native and external applications; and
12. Assist in tracking usage of guided data exchange interviews and soliciting feedback from users.
Objective 3
1. Coordinate development of subject matter training materials for pro bono attorneys;
2. Manage and facilitate testing and refinements of created pro bono tools;
3. Manage and facilitate the testing of expected workflows for staff members responsible for administering the pro bono coordination platform;
4. Conduct user testing for each component of the pro bono coordination platform; and
5. Assist Texas Partners in tracking usage of the pro bono coordination platform and soliciting feedback from users.
Objective 4
1. Coordinate with selected vendor on scheduling, implementation and evaluation of the enhancement of the DisasterLegalAid.org website or similar platform.
Project Timeline Overview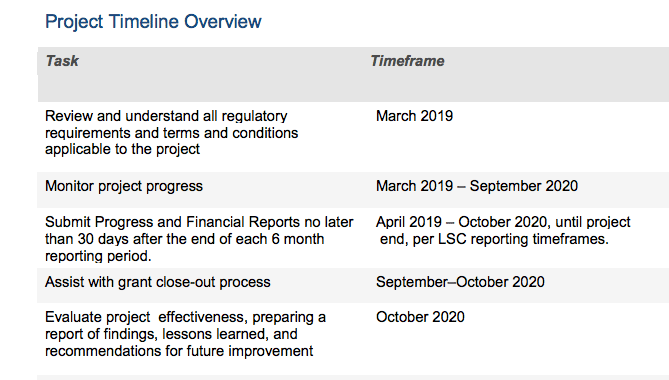 Project Deliverables
Objectives 1-4 outlined above are detailed in the attached Project Plan. See Exhibit A. The Project Plan lists the time-bound milestones and deliverables for each Objective. In addition to the Project Plan, the selected Program Manager will be asked to complete the following:

Training Expectations
The selected vendor is expected to assist in the development and implementation of training for program staff on the use of all tools developed under this project and should account for training time in any proposals or bids submitted.
Submission Requirements
All proposals must be 10 pages or less (not including references and samples of comparable work), concise and well‐organized, and demonstrate how your proposed services, approach and methodology, qualifications, experience, and terms meet or exceed LSLA's requirements. All proposals must also contain the following:
Applicant Information:
1. Applicant's full name, address, telephone number, email, and website.
2. Your submission point‐person. Please include title, phone number, and email address
3. Company overview, including a brief history, mission, number of employees, and number of ears in operation.
4. If an independent consultant, your full name, address, telephone number, email, and years working as an independent consultant.
5. Client mix: tell us what percentage of nonprofit, government and commercial clients you serve.
6. Two (2) recent references concerning your experience with the work described in this RFP. Indicate the reference's name, a brief description of the services provided, and the name, title, telephone number and email address of a reference who is knowledgeable about your work and who may be contacted by proposal evaluators.
Firm or Key Personnel Qualifications
LSLA seeks the services of a project manager with demonstrated expertise and experience in grants management and overseeing projects involving the development and implementation of information technology systems. Experience in disaster response activities is highly preferred. Please provide examples of your experience and expertise in these areas, samples of comparable work, and résumés for the key personnel involved in the project.
Other required qualifications include:
1. Excellent written communication skills with demonstrated ability to produce professional, clear, well-written work products;
2. Excellent oral communication and interpersonal skills with demonstrated ability to reach different audiences and effectively manage conflicts;
3. Experience analyzing complicated concepts and offering cogent conclusions;
4. Ability to work well with people who have diverse backgrounds, perspectives, and working styles
5. Ability to function in a discreet, diplomatic, and confidential matter;
6. Ability to exercise sound judgment and articulate well-informed and objective recommendations;
7. High degree of flexibility, capacity for self-management, and attention to detail;
8. Strong organizational skills; and
9. Understanding of and commitment to legal aid and disaster preparation and relief.
Project Approach and Management
Provide a work plan for completing this project. Include an estimate of the hours you believe it will take for your team to complete each phase of work. Your proposal must describe your approach for assisting with, administering and overseeing the project objectives and accomplishing the Project Manager responsibilities outlined in this RFP, including how you plan to communicate with LSLA, the Texas Partners, and multiple vendors and contractors to effectively facilitate the exchange of necessary information, and how you plan to monitor project progress, both on-site and remotely. Your process must include a comprehensive review of grant-related documents and budget materials, interviews with relevant staff and stakeholders, and an examination of the implementation of technology projects as well as the usability of the technology.
Pricing and Pricing Methodology:
Provide a budget for this project, including an itemization of expected direct and indirect costs and expenses, including travel expenses, taxes, and service fees, administrative costs, maintenance/customer support costs, system or software conversion costs (all expenses must be reasonable and necessary, billed at-cost (as demonstrated by receipts or other appropriate documentation), and consistent with LSLA or LSC's expense and travel policies, which are similar to that of the Federal Acquisition Regulation and the Federal Travel Regulation). We anticipate awarding a time and materials contract; accordingly, your proposal must include: 1. Hourly rates for each proposed employee or consultant assigned to the project; 2. Estimate of the total number of days or hours the applicant expects to bill for the project; and 3. Estimate of the total cost of the project, including expenses.
Other Information
Applicant is encouraged to provide other information or material, within the 10 page limit, that it believes is relevant to LSLA's evaluation or that provides additional features or value to LSLA. Some examples of additional value may be:
(a) Experience with and ability to provide support to LSLA with grant reporting requirements;
(b) Abilities or accomplishments in user experience assessment, testing and design;
(c) Experience with and ability to work with multiple organizations and stakeholders in a collaborative project,
(d) Problem solving experience involving multiple project partners; and
(e) Ability to integrate branding within a tech project design.
Preferred Method of Contact
Currently we prefer to communicate via email. As the proposal process progresses we will make ourselves available for phone calls and possible in-person meetings. Please submit questions relating to this RFP by email to Debra Wray at dwray@lonestarlegal.org and include "DLATexas Partner Project Manager" in the subject line of the email. All questions and answers will be shared with all participating vendors via LSLA's web site.
Availability during RFP Response Process The individual(s) involve in this project can typically be reached between 8:00 a.m. and 5:00 p.m. Central Standard Time. Please allow 24 to 48 hours for response time.

Proposal Costs
Applicants are responsible for all costs incurred in preparing their proposals. The final contract will not reimburse the successful applicant for proposal preparation costs.
Evaluation
The contract will be awarded to the vendor who provides the best value – the most advantageous balance of price, quality, and performance – to LSLA. Proposals will be evaluated based on the following criteria:
Price
• The reasonableness of the price for the service being provided.
• Whether the price is realistic (especially if it is an estimate), reflects a clear understanding of LSLA's need, and is consistent with other parts of the proposal.
Quality
• Qualifications and experience of proposed staff
• Technical expertise
• Project plan and approach Performance
Capacity
• Understanding of and ability to meet LSLA's needs
• Responsiveness to LSLA
Professionalism
Page 10 of 10 Reputation for excellence in price, performance, and quality Willingness to accept LSLA and LSC terms (E.g., Texas venue and governing law, no limitation on liability, no binding arbitration, indemnification, and estimated cost, but not to exceed clause.)
Costs
The cost of incidental expenses, including taxes and service fees, administrative costs, maintenance/customer support costs, system or software conversion costs, travel and transportation costs.
LSLA RIGHTS
LSLA reserves the right to:
• Accept or reject any or all responses, or any part thereof;
• Waive any informalities or technicalities contained in any response received;
• Conduct discussions with respondents and accept revisions of proposals after the closing date;
• Make an award based upon various selection criteria;
• Request clarification from any respondents on any or all aspects of its proposals;
• Cancel or re-issue this RFI at any time;
• Retain all proposals submitted in response to this RFI; and/or
• Invite some, all, or none of the respondents for interviews, demonstrations, presentations and further discussion.
CONFIDENTIALITY
During the vendor selection and project execution phases, you may be given access to LSLA's confidential or proprietary information. You agree not to use this information for your or any third-party's benefit and will not disclose this information to any person who does not have a need to know.
FREEDOM OF INFORMATION ACT
The Freedom of Information Act (FOIA) and associated federal regulations may require LSLA to disclose certain documents to the public, including portions of your proposal. Generally, LSLA will not release any documents that would cause your vendor competitive harm. You are encouraged, however, to label any confidential information contained in your proposal to facilitate LSLA's ability to withhold it from disclosure.