Introduction: Rachella Hercules
Hello All,
My name is Rachella Hercules, I am working at the Northwest Justice Project and with LSNTAP this summer as a fellow in conjunction with the 2018 Access to Justice Tech Fellows program (ATJ).  I wish to take a moment to introduce myself and say hello.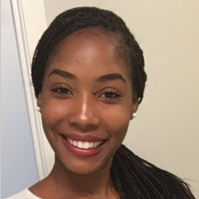 I am currently a rising 2L (second year law student) at Seattle University, School of Law. I originate from Sacramento, California where I studied political science and psychology at the University of California, Merced. After completing my undergraduate degree, I worked in finance and accounting for both a mid-size law firm and a small startup company. I also worked as a mentor and tutor for low income youth throughout Northern California. After taking two years off from school to gain work experience, I decided that I wanted to further my education by attending law school.
I personally experienced the negative effects the legal system can have on low-income people of color, and knew that a career in the legal field would allow me to advocate and help my community in a significant way. Although I am not exactly sure which area of law I would like to practice, I am confident that the avenue I choose will be rich in public service and advocacy for marginalized groups.
That brings me to my participation in the ATJ Fellows program, ATJ and the Northwest Justice Project's objectives align directly with my personal passions of providing services to individuals who are often denied the right to legal justice. For ATJ specifically, the fellowship aims to develop innovative solutions that leverage technology, data, and design to expand access to legal services and improve civil justice to meet the legal needs of low-income Americans. Although justice should not be limited to the rich, sadly, millions of Americans do not have access to justice due to the complexity of navigating the legal system and rising costs of legal services.  I truly believe that my personal experience, creativity, and dedication to the process, will serve as assets to the goals ATJ and the Northwest Justice project aim to accomplish.
I am enthusiastic about working  at the Northwest Justice Project and with LSNTAP over the course of this summer and promise to always dedicate myself to providing access to justice to those who need justice the most. I look forward to having the opportunity to meet and interact with everyone.  
Kind Regards,
Rachella Hercules